Book now and receive a fast, high quality phone or device repair. Visit our Victoria station branch and we'll repair your device while you wait or alternatively post it to us. Not only do we offer quick, quality tech repairs, our screen replacements also come with a lifetime warranty. See below to find directions to the store or instructions on how to post to us.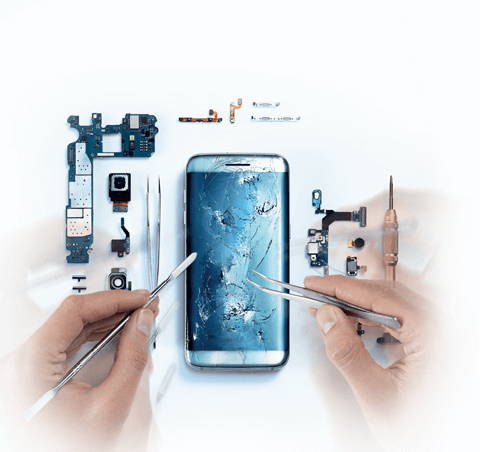 Our customers say it best:
Your nearest store is: London - Victoria Station (16 minutes away)
Address
: 33B Victoria Station, London, SW1V 1JU.
**We're between EE and Accessorize**
Email
: victoriastation@ismash.com
Phone
: +44 (0) 207 821 5533
Monday - Friday
:
08.00 - 20.00
Saturday
: 10.00 - 19.00
Sunday
: 11.00 - 18.00
By Car
The nearest available parking is at Victoria Station Car Park located at Eccleston Bridge, London SW1W 9SJ. Alternatively, there is an NCP Car Park 10 minutes walk away at Semley Pl, Victoria, London SW1W 9QL.
By Bus
Victoria Bus Station is located at the main train station's entrance. Victoria can be reached by bus from East Croydon station using the 119, 468 and 2 routes.
Located within Victoria Station itself, our store can be reached via the Victoria Line or Circle and District.
By Rail
Our store can be reached via Southern Railway services from East Croydon station.

We can replace your screen, fix camera issues or give your battery a boost. Not sure what's wrong? Our technicians can run a diagnosis too.

Find a Store / Post a Device
Book an appointment at one of our many stores across the UK and bring it in for repair. (Or you can post it to us, whichever is more convenient!)

Pop back to the store 30 minutes later and collect your shiny, fixed device. If you send it to us, we will get your device back to you as soon as possible.

Instruction on how to post & You can find the list of the main post offices in Croydon below:
To post to us simply order a repair and then send your device in a parcel or padded envelope to:
The Light Box, G.27 111 Power Road, Chiswick, London, W4 5PY.
High Street
 

: 10 High Street, Croydon, Surrey, CR9 1HT
Opening Times: 9 AM - 6 PM
West Croydon
: 25 London Road, West Croydon, Surrey, CR0 2RE
Opening Times: 9 AM - 6 PM
South End
: 129 South End, Croydon, Surrey, CR0 1BJ
Opening Times: 9 AM - 5:30 PM
Mitcham Road
: 234 Mitcham Road, Croydon, Surrey, CR0 3JL
Opening Times: 9 AM - 5:30 PM
Morland Road
: 199 - 201 Morland Road, Croydon, Surrey, CR0 6HD
Opening Times: 9 AM - 5:30 PM